InvestorPlace – Stock Market News, Stock Advice & Trading Tips
Clover Health Investments (NASDAQ:CLOV) stock is on the move Wednesday following a new price prediction from Cowen analyst Gary Taylor.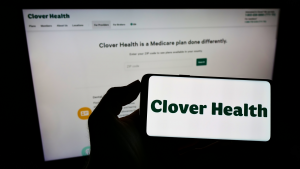 Source: Wirestock Creators / Shutterstock.com
The big news here is Taylor upgrading the firm's price prediction for CLOV stock from $3 per share to $7 per share. That implies a roughly 162% upside compared to the stock's closing price on Tuesday. It's also above the analyst consensus price target of $6.36 per share for the stock.
The Cowen analyst didn't stop with just increasing their price prediction for CLOV stock. He also increased its rating from underperform to market perform. That matches the current hold rating, which comes from one buy, three holds, and three sells.
So why is Taylor taking such a bullish stance on CLOV stock today? The analyst believes that CLOV stock is undervalued after falling 70% since its special purpose acquisition merger (SPAC) that took it public roughly one year ago.
Taylor also said that he believes the near-term catalysts are already reflected in the share price of the stock. Also, even with his upgrade and increase in price prediction, the analyst still warns of potential liquidity and profitability issues that could hamper CLOV stock, reports Seeking Alpha.
The new rating and price prediction for CLOV stock bring with them heavy trading today. As of this writing, more than 14 million shares of the stock have changed hands. That's about to reach its daily average trading volume of 15.9 million shares and we haven't even hit noon yet.
CLOV stock is down 4.6% as of Wednesday morning after starting off strong with the opening bell.
There's more stock market news investors will want to read up on below!